We speak with Andy Williamson, UK Commercial Director, SIG and Master of the Worshipful Company of Builders Merchants (WCoBM).
Andy Williamson is currently UK Commercial Director at SIG, having joined the business in June 2020 as part of a fresh management team intent on rebuilding a major brand within the sector. Andy has previously held roles as Group MD of IKO and Director of Digby Stone as part of a long history serving the construction and merchant industry.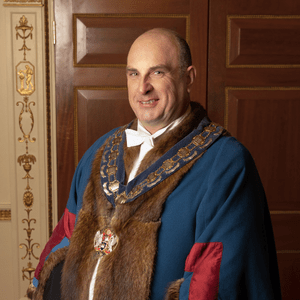 Tell us about your career progression.
I am proud to say I am a salesperson by trade, having sold building materials back in 1992 after leaving school with no idea what I was going to do. Following school, I joined NatWest and after a few other roles in banking, I started selling Solvite and UniBond for Henkel. My first management role came when I joined Yale locks, where I set up a dedicated team specifically to serve the merchant sector and I have not looked back since. I very quickly linked up with the BMF and attended many industry events including my first conference back in 2000. I have always believed that it is important to give back and fully participate, so I was very honoured to be elected as a Non-Exec Director of the BMF in 2005.
Following Yale, I joined IKO as Sales Director in Feb 2007 and took over as Group MD in November 2012, leaving the business in July 2018. What advice would you give to others starting out in this sector? Recently people are asking me this question and it means I'm getting old… I also have no idea why anyone would want to ask me! That said, if I were to give advice it would be these three things. Firstly, give back. Help others not because you think you will get something from it, but for the good of the industry. Secondly, work hard. Hard work is the key to success, not how well educated you are or whom you know. This is a diverse and inclusive industry in which anyone can succeed. And finally, have fun and enjoy yourself. This sector is a fantastic place with fantastic people, so make sure you enjoy what you do and always have a laugh.
What is the Worshipful Company of Builders Merchants (WCoBM) and what does it stand for?
WCoBM is one of the 110 livery companies in the City of London. The livery companies' existence can be traced back to the 12th century when groups of people working in the same craft came together to regulate competition within their trade and maintain high standards. Today livery companies are just as pertinent as they have always been, however, their focus, whilst keeping the same ethos, has changed to promoting and supporting their trade through encouraging fellowship and promoting and supporting education and training. The livery companies have a huge charitable arm, donating over £40M per year to charities, both in the city and further afield.
You are the current Master of the WCoBM. What are the responsibilities of this prestigious role?
I took over as Master of the WCoBM in October and as the title of this feature suggests, it is very much about bringing the bling! As Master, my main responsibility is to promote the art of a builders' merchant to as many people as I can, both in and out of our industry.
The Master is a huge honour and is quite humbling as it is your peers who nominate you for the role. I will hold the role of Master for one year and during that time I will attend over 100 industry events, within the City of London and further afield. So far in my tenure, I have been honoured to lay a cross at the City of London's Garden of Remembrance at a ceremony at St Paul's Cathedral with the Lord Mayor of London; I have visited the Battle of Britain Memorial flight; I've hosted a lunch and presented awards to industry, military, and city recipients, as well as attended several fantastic dinners including quite a few with the Lord Mayor at Mansion House in London. As Master, you are also responsible for the running of the livery company and managing its employees, of which we have three, so it is a bit like running a small business in my spare time whilst still doing my day job at SIG. 
What is your outlook for the remainder of the year, into 2023?
Having just come through two difficult years of the pandemic I am sure we all thought things would start to settle down. However, we find ourselves in the horrific situation of seeing war on our doorstep following Russia's invasion of Ukraine. Whilst only a small percentage of finished goods come into the UK market from those affected areas, the knock-on impact on energy costs and availability of earth minerals is creating huge price rises and this in itself could well have an impact on demand. We are already seeing significant price increases and unfortunately, I think there is more to come as manufacturers' energy hedges start to run out. If energy costs do not soften, this will be challenging. I do think that the market will calm as people become more cautious about their discretionary spending, however, this gives us an opportunity as an industry to look at how we do things. I believe there could well be a move towards alternative energy sources and building to a better, more energy-efficient standard. This great industry will also come up with new and innovative solutions to help us build better for the future.
This interview was featured in Keystone Group's 2022 edition of Merchant Market Maker, you can read the full publication here.