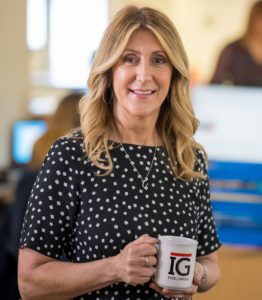 Caroline Meredith, Commercial Director for IG Lintels, discusses how she got started in the industry and what advice she would give to other women looking to start a career in construction.

Tell us about yourself?
I was born in Cwmbran and have lived there all my life. I have two sons, one works in haematology as a Biomedical Scientist, and the other works for a Formula 1 team as a software developer. I love baking and cooking in my spare time, and as I love my food so much, I also like to keep fit, or I should say – I need to keep fit. This has gone by the wayside over the past two years and my aim now is to get back to my pre-Covid fitness level.
How did your career path take you into the construction industry?
I left school at the age of seventeen and was offered two jobs, one as a trainee chef and the other as an office junior at IG Lintels. After weighing up both options I decided to accept the IG Lintels offer. I was employed in November 1979 as an office junior. The first computer was introduced into the office around 1980 and that's when I started to process sales orders. The computer was so slow when it was originally installed that I would work weekends to catch up with the backlog of orders.
Over the next seven years, I progressed to the Sales Office Team Leader before going on maternity leave. After my first son was born, I decided to leave work to concentrate on raising a family. Two years later my second son arrived.
The late '80s and early '90s had been tough with the high interest rates, so in 1994 I returned to IG Lintels working in the technical admin team before moving back to the role of SOP Team Leader and taking on credit control as part of my role.
Over the years I progressed into management and as part of my development, I found that coaching and NLP training was invaluable and would thoroughly recommend it.
In 2006 IG Lintels became part of the Keystone Group and over the past sixteen years I have thoroughly enjoyed my job. Keystone has supported me with my professional development and helped me achieve my career goals.
What steps does the industry have to take to ensure career success for women in this sector?
I know that a lot of effort is going towards making the construction industry more accessible for women, with lots of initiatives to increase diversity and tackle the gender gap. I think there may be preconceived ideas about the roles available for women in the industry. From bricklaying and surveying, engineering, customer service, finance and administration, if the variety of roles were promoted more, then this may attract more women into construction. I have seen a shift over the years, and we have more women in certain roles than we did thirty years ago, such as Technical Engineers, Managers, ASMs, Directors and CEOs. Mindsets have changed and it's great to see.
What advice would you give to young females starting their careers?
Never stop learning; there's always something new you can learn every day. Self-improvement is an endless task, and you will reap the benefits. Always be willing to take on any task and always do your best at whatever comes your way. A 'can do' attitude will serve you well with your organisation and your customers. Be willing to listen to your colleagues and consider others' opinions, it's always good to keep an open mind. Believe in yourself and you can achieve anything you want to. One of my favourite quotes by Henry Ford is: 'Whether you think you can, or you think you can't – you're right.'
What are your goals for the next five years?
As I'm a firm believer in progression and succession planning, I will be supporting individuals with their career aspirations within the organisation. We have so much talent within our business and it's important to support them with their development. This will secure a strong and experienced workforce and I can't wait to see what the future holds for the Keystone Group.