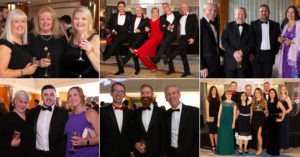 IG Lintels marked its Diamond Anniversary with an evening full of celebrations at the Hilton Hotel in Cardiff on Thursday 4th October 2018. The event was a great opportunity to recognise the wonderful staff and customers who have helped to make IG Lintels such a success over its 60 year history.
IG Lintels was founded in 1958 and invented the original open back steel lintel which has now became the industry standard with millions of homes being built using steel lintels as a result of IG's innovation. IG Lintels is a brand built on a strong foundation of innovation, not only did they invent the steel lintel, they were also the first manufacturer to insulate a lintel and revolutionised the industry in 2011 with the introduction of the Hi-therm lintel, the first one piece lintel designed to combat thermal bridging.
The event was hosted by Keynote Speaker and Entertainer David Meade while Special Guest Speaker Nigel Owens MBE, Welsh International Rugby Union Referee wowed the crowd with his Welsh humour and inspirational stories from the World of Rugby Union. On an evening full of surprises, Derrick Mc Farland, Director of IG Lintels and Sean Coyle, Chairman of the Keystone Group went 'Back to the Future' to celebrate the 60 year history of IG Lintels. A prize draw on night also raised an amazing £2,000 for IG Lintels chosen charity, the Alzheimer's' Society.
Derrick Mc Farland, Managing Director of IG Lintels commented "It was a pleasure to be joined by our dedicated staff and valued customers to celebrate such a special occasion. One thing that has remained consistent over the past 60 years, is the passion and commitment of IG staff. We have a very experienced team; our longest serving employee has been with the company for 45 years. Our employees' passion for providing excellent service has helped to create a strong relationship with our customers so we were delighted to welcome so many of our loyal merchant partners and house builders to celebrate 60 years of innovation. We would like to say a special thanks to everyone who came along and helped to make the event such a special celebration."