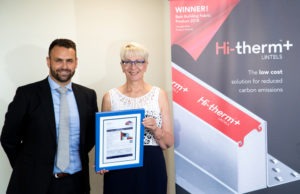 IG Lintels is delighted to have been awarded British Board of Agrément (BBA) certification for its Hi-therm+ Lintel making it the only BBA Approved one piece lintel solution which achieves the appendix R value for steel lintels in Part L 2013 (depending on wall construction). The Hi-therm+ is a thermally efficient lintel designed to reduce thermal bridging and improve SAP calculations. The Hi-therm+ can achieve Psi values as low 0.03 – 0.06 making it up to 5 times more thermally efficient than a standard steel cavity wall lintel.
The BBA is one of the UK's leading certification bodies within the construction industry offering approval, certification and test services to manufacturers of products and systems. The BBA conducts rigorous testing and assessments including laboratory tests, on-site evaluations, quality management checks and inspections of production before awarding a product or system with an Agrément Certificate, making it one of the most trusted marks of quality, safety and reliability.
Throughout every stage of development, the BBA conducted assessments, audits and tests of the Hi-therm+ Lintel to ensure it met their strict quality standards. The key factors assessed throughout the testing process included structural performance, behaviour in relation to fire, thermal performance, condensation risk and durability.
Carried out by teams with detailed technical knowledge and experience, BBA certification and inspection services are recognised by building control, local authorities, industry insurers and the key construction trade associations in the UK. BBA certificates are only awarded to lintel companies who continuously carry out approved load testing and operate under strict quality control manufacturing procedures.
David Grace, Sales Director at IG Lintels commented "We are delighted our Hi-therm+ lintel has been awarded BBA certification as it is a widely respected mark of quality assurance across the construction industry. We invest heavily in research and development at IG and we are continuously looking for ways to improve our products and reach new levels of thermal efficiency. We are pleased to say that Hi-therm+ is the only BBA Approved one piece lintel solution which achieves the appendix R value for steel lintels in Part L 2013 (depending on wall construction). The BBA has been involved throughout the development process for Hi-therm+ to ensure we are providing our customers with innovative solutions which meet the highest quality and safety standards."