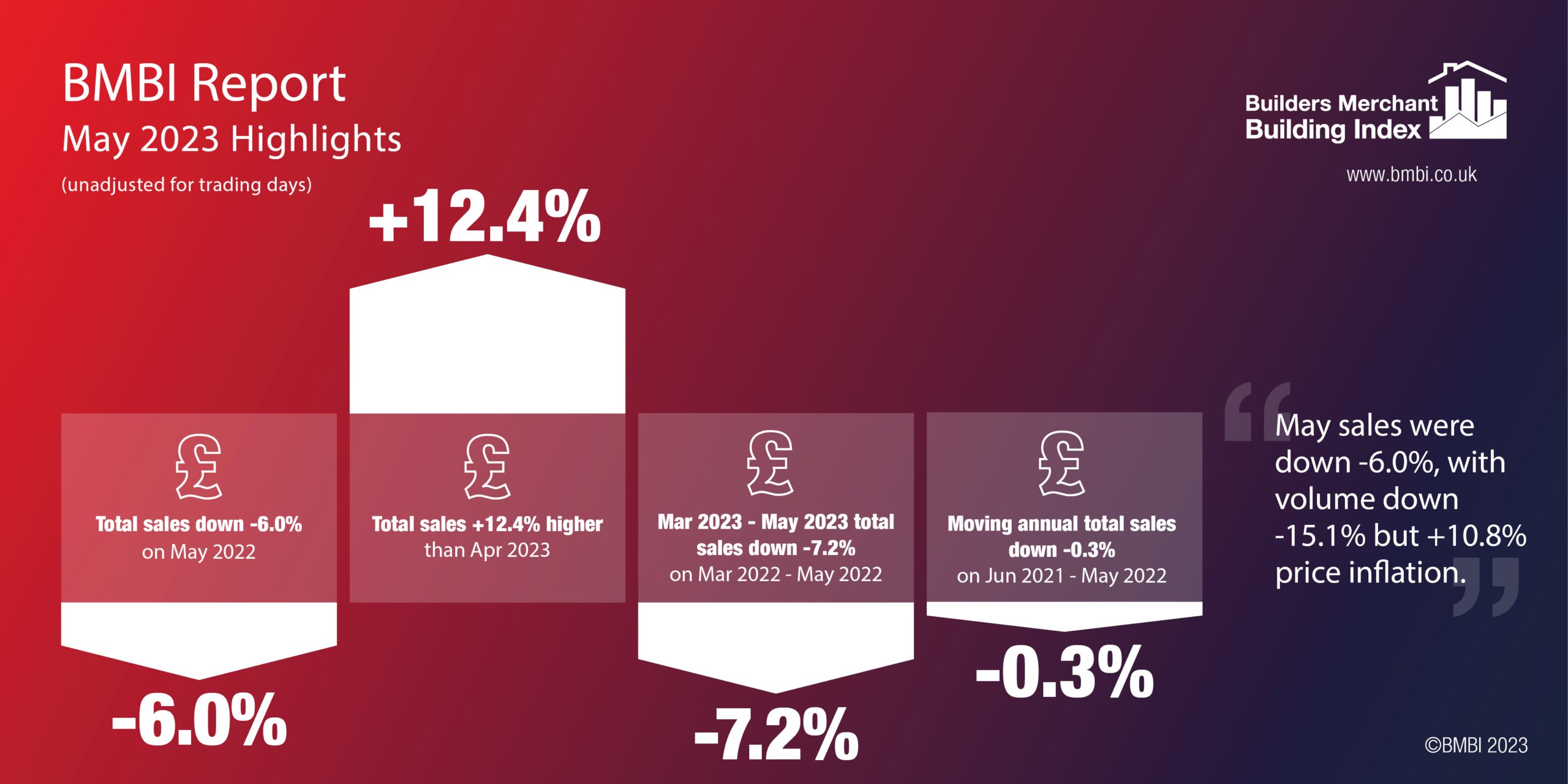 Eight of the twelve categories sold more this year than in May 2022. Renewables & Water Saving (+41.8%) grew the most, followed by Decorating (+10.2%) and Workwear & Safetywear (+5.9%). Landscaping (-13.4%) and Timber & Joinery Products (-18.2%) were the weakest.
Month-on-month, total merchant sales climbed +12.4% in May compared to April 2023. Volume sales were up +14.1% while prices decreased slightly (-1.5%). With two extra trading days in May, like-for-like value sales were up +1.1%. All categories sold more with Landscaping (+18.6%) and Heavy Building Materials (+13.3%) growing the most. Workwear & Safetywear (+11.3%), Decorating (+10.7%), Timber & Joinery Products (+10.6%) and Ironmongery (+10.3%) also hit double digit growth, while Plumbing, Heating & Electrical (+7.1%) and Tools (+7.2%) grew the least.
Total merchant sales in the twelve months from June 2022 to May 2023 were -0.3% lower than the same period a year ago, with volumes down -13.6% and price inflation of +15.4%. With five less trading days in the most recent period, like-for-like sales were +1.8% higher. Ten of the twelve categories sold more with Renewables & Water Saving (+41.0%) outperforming the other categories by some margin. Workwear & Safetywear (+14.3%), Plumbing, Heating & Electrical (+12.2%), Decorating (+11.6%) and Kitchens & Bathrooms (+11.0%) also made double figures. Landscaping (-10.4%) and Timber & Joinery Products (-13.6%) sold less.
Mike Rigby, CEO of MRA Research which produces this report, said: "Britain celebrated the King's Coronation in May 2023, but there was no cause for celebration in the construction industry this month for the steepest drop in house building activity since April 2009, with the exception of the disruption in the first couple of months of lockdown in 2020.
"The latest BMBI figures reflect the impact this slowdown is having further up the supply chain with falling sales volumes. Forecasts of a jump in monthly mortgage repayments of £500 for around one million households by the end of 2026 isn't likely to kickstart the housing market any time soon either.
"But there is cause for optimism. While the cost-of-living crisis continues, inflation appears to be easing and there is growing resilience in the market. Consumer confidence has been recovering according to GFK's Consumer Confidence Index, with an uptick of three points recorded in both May and June. That's still a negative -24 but 12 months ago it was -41.
"As ever, parts of the market are thriving despite the tough conditions. Homeowners without mortgages and with savings are still spending on repairs, maintenance and improvements, and builders and trades who serve them are booked well into the future."
Set up and run by MRA Research, the BMBI – a brand of the Builders Merchants Federation – is a monthly index of builders' merchant sales, and the most reliable, up-to-date measure of Repair, Maintenance, and Improvement (RMI) activity in the UK. The index is based on actual sales from GfK's Builders' Merchant Point of Sale Tracking Data, which captures value sales out to builders from generalist builders' merchants, accounting for over 80% of total sales from builders' merchants throughout Great Britain. An in-depth review, which includes commentary by sector experts, is provided each quarter.
May's BMBI report, published in July, is available to download at www.bmbi.co.uk.