June to August Builders Merchant volumes up +5.3% on previous 3 months in the BMBI Report Q3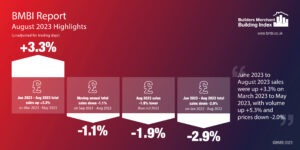 The latest Builders Merchant Building Index (BMBI) report shows builders' merchants' value sales were down -3.3% in the month of August compared to the same month in 2022, with volume falling -10.5% and prices up +8.0%. But value sales in the last three months, June to August, were +3.3% higher than March to May 2023 with volumes up +5.3% and prices down -2.0%.
Eight of the twelve categories sold more this August than in August 2022 with Renewables & Water Saving (+37.6%) continuing to dominate the field. Workwear & Safetywear (+11.6%), Plumbing, Heating & Electrical (+10.8%) and Decorating (+10.8%) increased more than other categories. Landscaping (-7.0%) and Timber & Joinery Products (-13.2%) were weakest.
Month-on-month, total merchant sales were down -1.9% in August compared to July. Volume sales were down -3.2% while prices increased +1.4%. With one additional trading day in August, like-for-like sales were -6.3% lower. Five of the twelve categories sold more, led by Workwear & Safetywear (+7.5%). Renewables & Water Saving (-9.6%) was the weakest category.
Total merchant sales in the twelve months from September 2022 to August 2023 were -1.1% down on the same period a year ago, with volumes falling -12.8% and prices up by +13.3%. Nine of the twelve categories sold more with Renewables & Water Saving (+46.0%) the best performer by a considerable margin. Plumbing, Heating & Electrical (+13.2%), Decorating (+13.0%) and Workwear & Safetywear (+12.5%) also recorded double digit growth. Landscaping (-10.9%) and Timber & Joinery Products (-14.0%) sold less.
Mike Rigby, CEO of MRA Research which produces this report, said: "When the ONS recently announced more accurate statistics for the last three years, it revealed that Britain had done rather better than several European countries, and much better than the dismal economic narrative economists and the national media had been recounting. Britain isn't in recession, unlike some others. But in October, consumer confidence, as reported in GfK's Consumer Confidence Index, lost all its gains since April, as consumers were hit by a mix of concerns – war in the Middle East, a rise in fuel and gas prices, and colder weather. In 2017, according to Reuters' research, 24% of UK citizens were news avoiders. Today that has jumped to 41%. More than half the avoiders said the negative impact on their mood was the reason for avoiding the news.
"So it's good to report that builders' merchants volume sales were up +5.3% in the three months June to August on the previous three months. August sales were a damp squib but that's no surprise. In addition to the tail off in demand due to customer and contractor holidays, the wetter than average summer months hampered outdoor trades and project starts, and many people spent their money on last minute holidays to escape the rain, rather than on home improvements. Travel agents recorded a quadrupling of bookings in July for August travel.
"Housebuilding has been an even damper squib. Despite a pause on interest rate rises, net mortgage approvals fell again in August. With people staying put, the repair, maintain and improve market offers the best opportunities for growth in the short to medium term. Britons have got the message: now's the time to 'improve not move'."
Set up and run by MRA Research, the BMBI – a brand of the Builders Merchants Federation – is a monthly index of builders' merchant sales, and the most reliable, up-to-date measure of Repair, Maintenance, and Improvement (RMI) activity in the UK. The index is based on actual sales from GfK's Builders' Merchant Point of Sale Tracking Data, which captures value sales out to builders from generalist builders' merchants, accounting for over 80% of total sales from builders' merchants throughout Great Britain. An in-depth review, which includes commentary by sector experts, is provided each quarter.
August's BMBI report, published in October, is available to download at www.bmbi.co.uk.